have you ever seen someone, i mean the real human with red eyes? with no contact lenses or whatever, original! have you?? hm... i wonder if there's someone out there with original red eyes.
that's not important though. i just love people with red eyes like vampire.
not any human or any vampires from Twilight movie okay? i don't like it. =_=

I love all the anime characters with red eyes~ x3
Take a look on the pictures below~ xD
I really love him~ oh, Kaname-sama~!
He's so gorgeous, so handsome, so awesome, and... and...
so...HOT AND SEXY!!!! kyaaa! xDD
*blush*
Sebastian~~ kyaaa!!! xDD
oh my, you heard me screaming? *blush*
but, who cares! i love you Sebastian!!! >w<
~~~~~RANDOM ANIME CHARACTERS~~~~~
(You know who~)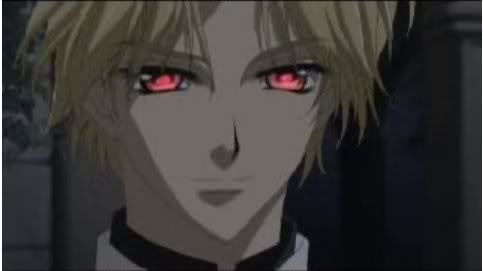 Maybe that's all for now~
I do think that, I started to love red eyes because, i really love red. haha!
that's a common sense. but, not all people love red eyes.
they think it's scary. but, for me, it's beautiful~
hehe... okay, that's all for now.
see ya!